Summary
"How to reset my Huawei phone? My Huawei phone runs slowly, so I want to reset it. But I'm not clear about the steps. I want a step-by-step guide. Please help!"
Want to reset your Huawei phone to free up the device? Yeah, resetting the phone will clear many junk data from the internal storage, but you will also lose other data simultaneously. So, are you truly ready? If you are still on the fence about resetting, you may wish to read this article first. It will tell you what to do before resetting, and how to reset a Huawei phone via 4 reliable methods. Let's check it out.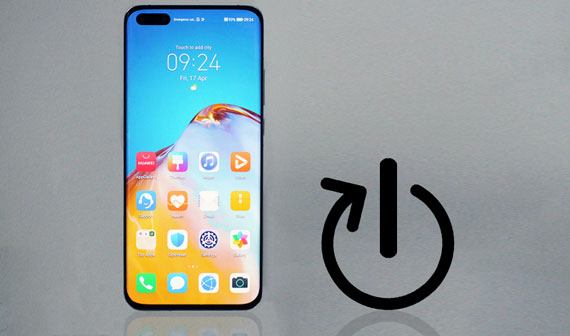 Part 1: What to Do Before Resetting Your Huawei Phone
If you factory reset your Huawei phone, all the data will be wiped after resetting, including your contacts, photos, videos, songs, apps, and more. In other words, performing a factory reset will format all the content and restore your Huawei phone to factory settings.
Therefore, please back up the important data on your Huawei device to your computer via this Android backup manager - Samsung Backup and Restore. It can one-click to transfer all data from Android to PC/Mac. Also, you can sync your data to cloud storage, such as Google Drive, OneDrive, etc.
After the backup, you'd better charge your smartphone, and confirm that it has more than 50% battery. Next, please turn it off, and start resetting.
Bonus: How can you get back your deleted SMS from your Huawei phone? This article will tell you 4 effective solutions.
Part 2: How to Reset Huawei Phone
The second part will show you how to factory reset a Huawei phone via 4 different modes. You can directly select one way to reset your Huawei phone.
2.1 How to Factory Reset Huawei Phone via Settings
Open the Settings app on Huawei, and you can factory reset your device without a hitch.
Here's how to restore a Huawei phone to factory settings using the Settings app:
Step 1. Go to Settings, and choose System & updates.
Step 2. Tap Reset > Reset phone option, and click the RESET PHONE icon twice at the bottom.
Step 3. Leave your Huawei phone alone. After the resetting is over, your Huawei phone will reboot automatically. Then you can set it up.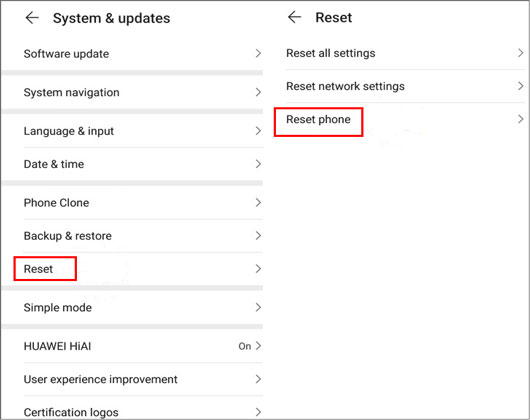 See also:
Want to transfer contacts from an old iPhone to Huawei? You can try these 4 powerful methods.
Which is the best Android cleaner app? Browse this guide to find the answer.
2.2 How to Format Huawei Phone via Recovery Mode
If you have locked out of your Huawei phone and forgotten the password, you can format the device via recovery mode. You can also call it the hard reset.
Fast reset a locked Huawei Android phone via recovery mode:
Step 1. Press the Power button to switch off your Huawei smartphone.
Step 2. Tap and hold the Volume Up and Power buttons for about 10 seconds. The device will vibrate, and you will see the Huawei logo on the screen.
Step 3. Choose the Wipe data/factory reset option, and enter the word yes. Then select the Wipe data/factory reset icon twice for confirmation. Then it will reset your Huawei phone. Once done, choose Reboot system now.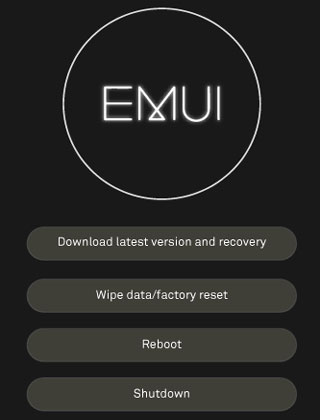 2.3 How to Reset Locked Huawei Android Phone via Find My Device
Google Find My Device can reset a locked Huawei phone remotely. If you lose your cellphone, you can also locate and ring it. But you need to meet some conditions: your Huawei phone is turned on, attached to your Google account, connected to a network, and visible on Google Play; you have enabled the Location and Find My Device features on the phone.
Here's how to flush a Huawei phone via Find My Device:
Step 1. Browse Find My Device on your computer or another mobile device, and sign in with your Google account.
Step 2. Click Next and ERASE DEVICE. Then tap ERASE DEVICE and input your Google account again.
Step 3. Hit the Erase icon, and it will wipe your Huawei phone immediately.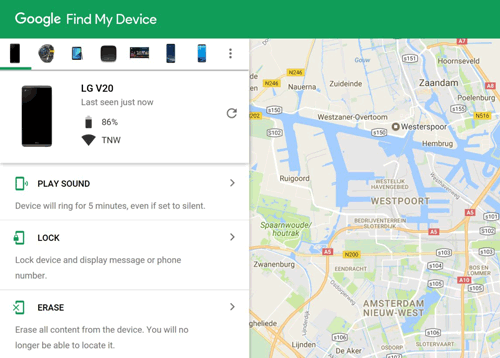 You might need: Is it feasible to move apps from Huawei to an SD card? Yes, let's take a look at this guide.
2.4 How to Completely Wipe a Huawei Phone via Huawei Eraser
Want to completely wipe your Huawei phone? If so, you can use this Huawei Eraser - Samsung Eraser. It can erase all data, settings, and information from your Huawei Android phone, such as call logs, accounts, passwords, browsing history, images, bookmarks, and so on. Furthermore, it can erase deleted data that you cannot access on your phone. Its high level can overwrite all your data 3 times.
Key features of this Huawei eraser:
- Thoroughly wipe a Huawei phone, including existing and deleted data.
- Offer you 3 security levels for erasing: Low Level, Medium Level, and High Level.
- Support most Android mobile devices, such as Huawei P40/P30/P20/P10, Huawei MatePad Pro/MatePad, Honor 60 Pro/60/50 Pro/50/30 Pro/30, Xiaomi 11 Ultra/11/10 Pro/10/9/8/6, OnePlus, Google, Motorola, ZTE, OPPO, Vivo, etc.
- Easily recognize your Huawei Android phone.
Download the eraser software on your computer for free.
Here's how to permanently erase a Huawei phone with this data eraser:
Step 1. Install the Eraser Program
After downloading this eraser package on your computer, please double-click it to install the software. Then connect your Huawei phone to the computer via a USB cable.
Step 2. Select a Security Level
- The software will fast recognize your device after you enable USB debugging on Huawei.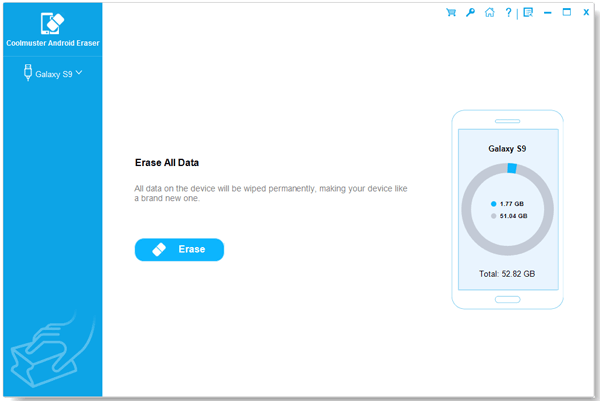 - Then tap the Erase > Medium icon to select a proper security level, and type the delete word for confirmation.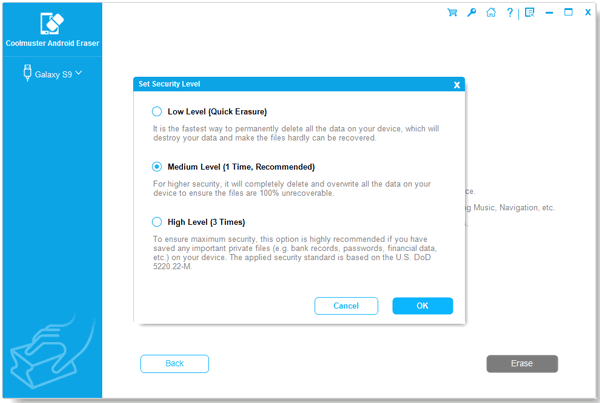 Step 3. Thoroughly Wipe Your Huawei Phone
Choose the OK on the mobile phone, and the software will start to erase all the data on your Huawei device. After that, it will overwrite your data permanently.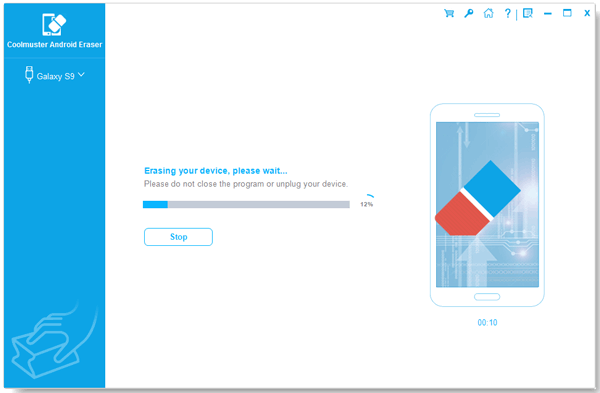 Conclusion
Now you have learned how to reset a Huawei phone with these 4 methods. Even though you forget the password, you can reset the locked Huawei Android phone via Find My Device. Besides, you can follow the guide above to completely wipe your Huawei phone via this data eraser tool - Samsung Eraser. This software can eliminate your Huawei data without recovery. So, let's reset the Huawei phone.
Related Articles
Phone Clone Troubleshooting: How to Fix Huawei Phone Clone Not Working Issue? (Proven Tips)
How to Transfer Data from Sony to Huawei with 4 Pragmatic Approaches
Full Guide: How to Transfer Data from Huawei to Huawei without Effort
How to Transfer WhatsApp from iPhone to Huawei with 3 Viable Solutions
How to Transfer Data from Huawei to Samsung: 6 Must-Know Tricks Here
How to Back Up Android Phone before Factory Reset without Losing Everything