Summary
Have you ever lost your phone numbers on your device? It can be a real pain, especially when the contact is very important. It could be due to accidental deletion or your device crash. Though it is normal to lose contacts on our Android devices, sometimes, even accidentally clicking on a phone number can lead to this problem. And, if the contact was your friend's or a co-worker, then you must recover it. So, how do you recover deleted phone numbers on Android?
It is not that difficult to restore deleted phone numbers. But, when you notice that some of your contacts are missing, the first thing to do is to stop using the phone and recover the lost files instantly. If not, you risk losing all your lost contacts. Here in this guide, you will learn how to get deleted contacts back on Android.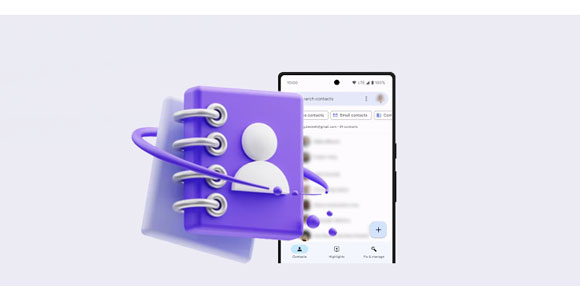 Part 1: How to Retrieve Deleted Phone Numbers with a Professional Tool
Can you recover deleted phone numbers on an Android phone/tablet? Of course, you can. One best way to do that is to use professional software - Samsung Data Recovery. This tool helps recover deleted contacts from the internal storage of Android devices, SIM cards, or external SD cards. And its two scan modes (Quick Scan and Deep Scan) can meet different requirements.
It's a cutting-edge tool specially made for all your Android recovery needs. The powerful algorithm that comes with this tool enables users to restore their deleted data like messages, photos, videos, call logs, and more from most Android models. Plus, it's very easy to use; no tech skills are needed. The steps are simple, so even a novice can use them to recover their deleted files. What's more, this phone number recovery program allows you to back up Android data to the computer to avoid data loss.
Highlights of this Android data recovery software:
- Scan and recovers deleted contacts on Android swiftly.
- Support the recovery of Android photos, music, SMS, documents, and so on.
- Allow you to get your deleted files back from your SD card without root.
- Display all your existing and deleted files on the interface.
- Enable you to selectively transfer Android data to a computer.
- Work for most brands of Android devices, like Samsung, ZTE, OPPO, Vivo, OnePlus, Sony, Motorola, Honor, Google, etc.
Download this recovery software.
Here's how to get deleted phone numbers back from an Android phone:
Step 1: Download & install the software on the PC. Next, launch it, then select "Android Recovery" from the toolbox.
Step 2: Plug your mobile device into the PC with a USB cable and make sure USB debugging is enabled. If not, follow the instructions on the screen to enable it.
Step 3: Now, choose the types of files to restore. In this case, it is "Contacts" and "Call Logs". After that, tap on the "Next" icon to start scanning your files. You can choose "Quick Scan" or "Deep Scan". The software will start scanning the connected Android phone.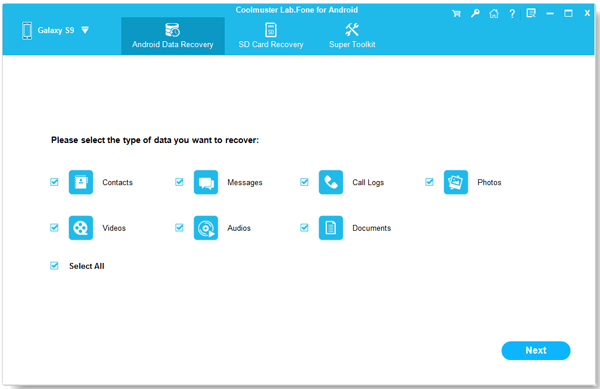 Step 4: After scanning, the tool will list all recoverable contacts. Preview as you choose the files to recover. After choosing the contacts, tap the "Recover" tab to start the process.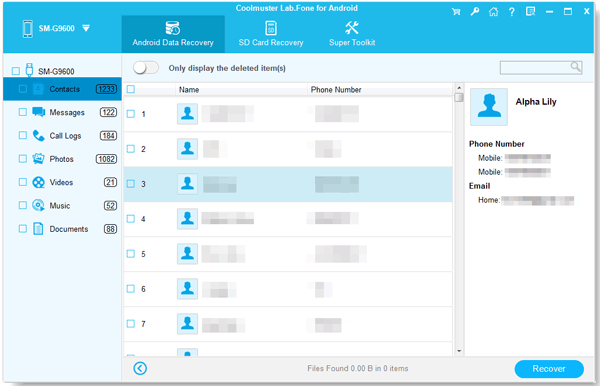 See more: How to Transfer Phone Number to New iPhone | 5 Practical Methods
Part 2: How to Find a Number You Deleted via a Contacts App
If you are looking for how to restore deleted phone number on an Android, you should first check where the deleted files go. They could also be in recycle bin. Mostly, Android devices have an in-built Recycle Bin where all temporarily deleted files go. Also, a recycle bin is found in the computer. So, after deleting contacts from Android, these deleted files will go to the Trash folder, which usually saves files for 30 days. Recycle Bin is found in the Contacts app and is easier to find as follows:
Step 1: Please navigate to the "Contacts" app on your Android phone and click the "Menu" icon in hamburger shape.
Step 2: Locate the "Trash" function, and check for any of your deleted numbers if they're still there.
Step 3: Recover the recently deleted phone numbers you want.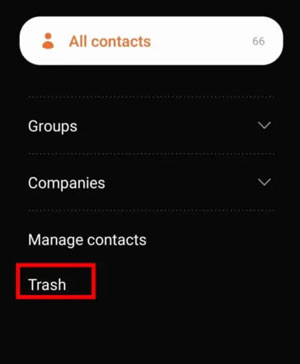 Part 3: How to Restore Deleted Phone Numbers from Your SD Card
Also, there's a possibility that your contact is just hidden in another palace, like your SD card. To see if there are contacts in the external memory of your device, here are the steps:
Step 1: Click on the "Contacts" application on Android and tap on the "More" menu at the top.
Step 2: Choose "Settings" option and click on the "Import/Export" option.
Step 3: You may now import your contacts in vCard format from various channels. Click on the "Import from device storage" option to search the hidden contacts from your SD card.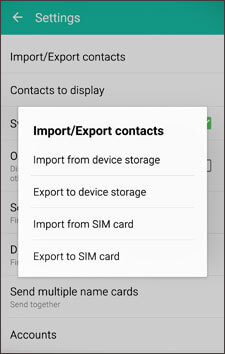 Read also: How can you recover deleted videos from WhatsApp? Learn about viable methods from this guide.
Part 4: How to Find Deleted Phone Numbers from Google Account
Mostly, Android devices sync contacts to a Google account. If you're one of those people who automatically save their contacts to a Google account, you may directly recover them from Gmail. However, Gmail saves your deleted files for only 30 days. So, if you put your contacts onto the Trash folder 30 days ago, you will lose them forever. Here's how to recover a deleted phone number from your Google account:
Step 1: Head to "Google Contacts", then sign into your Gmail account. Once done, you can view your backup phone numbers on Google Contacts.
Step 2: Please click "Trash" and check your deleted phone number.
Step 3: Select the phone number you want, and click "Recover". Then you can sync your Google contacts on your Android phone, and it will appear on your mobile device.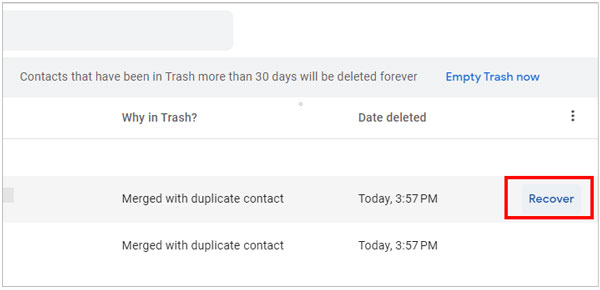 Further reading: How to Recover Deleted Photos from Private Safe on OPPO with Ease [Solved]
Part 5: How to Get Back Deleted Phone Numbers from SIM Card
Suppose you saved your contacts to a SIM card on Android and deleted a phone number by mistake; restoring it will be as easy as pie. You just have to import them back to your device. This way, you can recover the contacts from a SIM card directly. Here is how to get back deleted phone numbers from a SIM card:
Step 1: Launch the "Contacts" app on your Android phone. Find the three-dot menu button, then click on it. Choose the "Settings" option.
Step 2: Find the "Import/Export contacts" opti n. Select "Import from the SIM card". The system will start scanning the SIM card and then display the list of all contacts that are saved on it.
Step 3: Scroll in the list, then choose the phone numbers you wish to restore. Click on "Import" to import the phone numbers into the device's memory.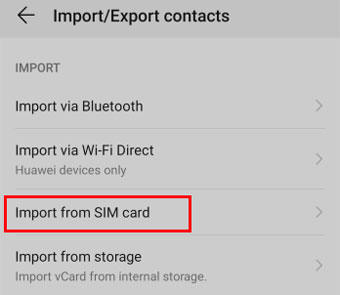 Note that this method will work if you have previously exported contacts to a SIM card. If you did not perform a backup or export before, this technique might not be successful.
Part 6: How to Undelete a Phone Number via GT Recovery
There are many applications you can use to recover deleted files from your Android. One helpful app is GT Recovery. It can restore lost files like contacts, photos, text messages, and more on Android quickly and securely. Here is how to get back lost phone numbers using this app:
Step 1: Download the GT Recover app from its official website. Tap "Install", then open the application. If the device isn't rooted, the application will ask you to root your device.
Step 2: Now choose "Recover Contact" and tap "Start new scan" to start the scanning process.
Step 3: Please select the phone numbers you want to restore on the screen, and tap "View the Result" in the dialogue to check the saved phone numbers.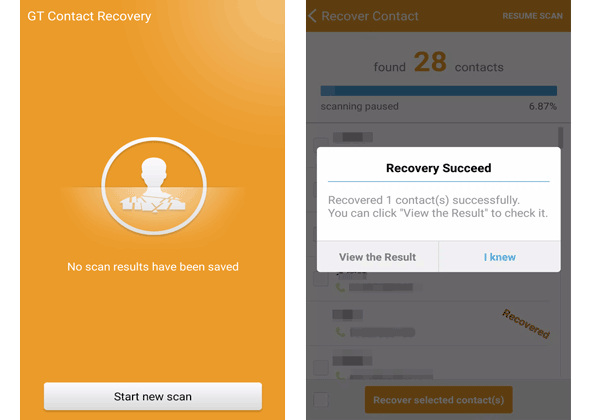 Bonus: Avoid Data Loss by Backing Up Your Android Contacts
You may be lucky to recover your deleted contacts on Android. But you never know what might be the case next time you delete your phone numbers. Let's say your device is stolen or it is damaged. In such a case, you may not get back your deleted contact files. Therefore, it is essential to back up contacts and other files in your Android phone somewhere safe. You can back up to the computer or to cloud storage. This way, you can restore your files even when the device gets damaged or you delete them.
Conclusion
Hopefully, this detailed guide can help you get back your deleted phone numbers. However, other methods will need you to have a backup. But, with the help of professional recovery software like Samsung Data Recovery, you don't need a backup. You can recover deleted contacts from your Android device as well as your SIM card. It scans the devices for various deleted files and restores them with ease. So you don't need to bite your nails if you delete data accidentally.
Related Articles
Why Does Android Crash? How Can You Fix the Issue? [Solutions Ready]
How to Recover Snapchat Messages on Android? (3 Easy Methods)
How to Get Out of Android Recovery Mode | Ultimate Solutions
How to Retrieve Text Messages from Old Phone Number without Difficulty
How to Add Contacts on Android Phone with Easy Clicks [5 Ways]
Share Contacts on iPhone without Trouble (5 Fabulous Approaches)