Summary
One major problem encountered by smartphone users is data loss. You can lose files from your Android device due to update failure, wrong deletion, random apps crashing, etc. This means that the data loss issue is inevitable.
Some important files that can get lost include music, voice recordings, images, texts, etc. Whenever a user encounters data loss, they first think of how to get it back. Thanks to the introduction of new techniques, today's mobile devices have the power to restore any lost files from within. Today, we are going to explain how to recover deleted files on Android without a computer. If you are interested in it, keep reading.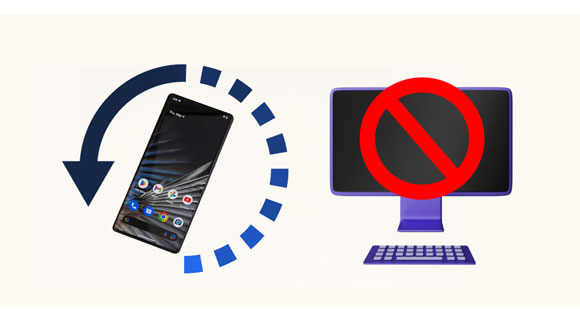 Part 1: Can I Recover Deleted Files on Android Without Computer?
Yes. It is possible to recover deleted files from Android internal storage without PC. However, note that the sooner you recover the files, the better your chances of getting them back successfully.
It is advisable to stop using the Android phone after you've deleted the files from the internal storage. This is because the files may be overwritten by new data with time, making the recovery difficult.
Part 2: How to Recover Deleted Files from Android Phone Without Computer [5 Ways]
As said, you can recover any lost file on an Android phone without a computer. It's relatively easy, and there are several ways to do that. Below are effective ways to recover deleted different files on Android without a computer.
Way 1. How to Recover Deleted Songs on Android Without Computer Using Recycle Bin
Most Android devices have Recycle/Trash Bin, a storage location that temporarily stores any deleted files before they're permanently deleted. Usually, when you delete data like songs and other media files from your Android, they aren't deleted from the storage immediately and are moved to Recycle Bin. This will allow you to recover them if they're deleted by mistake. However, note that your songs will only be stored in this storage location for 30 days.
Here's how to recover deleted songs on Android without a computer via a recycle bin:
Step 1: On the Android device, head to "File Manager" or "My Files". Tap on the "More" icon at the top right corner and click on "Settings" and "Recycle bin".
Step 2: Locate the deleted songs, select the ones you desire to restore, and press the "Restore" button.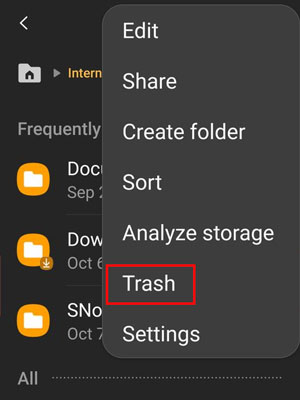 Learn more: Are you searching for a way to recover your videos from WhatsApp? Now you get it. This guide will teach you step by step.
Way 2. How to Recover Deleted Videos from Android Without Computer via Google Drive
Google has introduced several features that target specific file types. If you backed up your videos, photos, documents, etc., to Google Drive before, you can restore them easily without a computer.
Here is how to recover deleted videos from an Android device without a computer with Google Drive:
Step 1: Launch the Google Drive application on an Android phone and ensure you've logged in with the account you used to back up your data.
Step 2: Click on "My Drive", then select a backup file. Choose the videos you wish to restore and download them to the phone.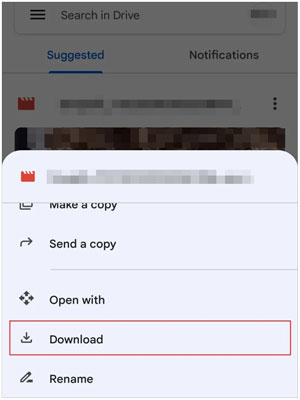 Click it if needed: How to Recover Permanently Deleted Photos from Google Photos Safely
Way 3. How to Recover Deleted Photos from Android Phone Without Computer via Google Photos
If you have been using Google Photos, you know that it has trash bin to store deleted pictures or videos for 30 days. However, it differs from the application's recycle bin as you should back up the pictures to Google Photos.
Here is how to recover deleted photos from an Android phone without a computer from Google Photos:
Step 1: First, open Google Photos app on an Android device, then locate the "Trash" button on the left.
Step 2: Choose the pictures you wish to recover, hit "Restore", and get your photos back to your device's Gallery app.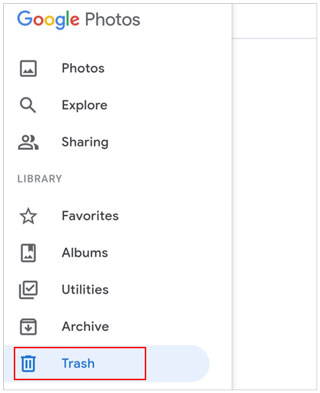 Way 4. How to Recover Deleted Files from Android Internal Storage Without PC via DiskDigger
DiskDigger is a nice place to start if you've never used data recovery apps. It mainly focuses on recovering only videos and images. Despite that, it's pretty flexible. DiskDigger uses various algorithms to restore files without a PC. However, you must root your device to use the Full Scan mode. The basic plan works perfectly fine, even without rooting your device.
Steps how to recover deleted files on Android without computer via DiskDigger:
Step 1: Install DiskDigger on Android from Play Store.
Step 2: Open it and click "Start the Basic Photo Scan" at the top. The application will start displaying the deleted pictures.
Step 3: Click on the Settings gear-like icon at the upper right corner.
Step 4: Choose a date range and hit "OK". Select the photos to restore and set the destination location. Follow the instructions on the screen to recover the pictures to that location.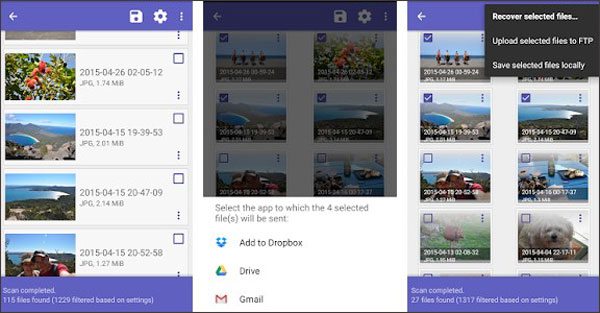 Way 5. How to Recover Deleted Files from SD Card on Android Without PC
With an SD card, you have digital storage for keeping videos, photos, books, audio, books, documents, APK files, and more in folders on an Android device. The good thing is that most Android devices have SD card slots that can hold the SD cards. This removable storage provides a convenient way for storing and transferring data. And, if you always store your files on the SD card and can locate the folders where the files are stored, you can restore the deleted files easily.
Here's how to recover deleted files on Android without a computer and root via an SD card:
Step 1: Please insert the SD card into your Android via a card reader.
Step 2: Head to the folder in which you saved the files.
Step 3: Choose the files you intend to recover, and copy them to your phone's internal storage. Ensure you have enough storage space to store your files.
Read also: How to Move Files to SD Card on Android Rapidly (Latest Tutorial)
Extra Tips: How to Retrieve Deleted Data on Android with Computer
Honestly, recovering deleted data on Android without a computer is quite tricky. Browsing and selecting multiple scanned files on a phone is very difficult due to its smaller screen. If you want to recover deleted files on Android on a computer, take a look at this Android recovery tool - Samsung Data Recovery.
This tool allows you to restore deleted files even without a backup. It's a powerful tool that scans the device's internal storage for deleted files. The two scan modes: Quick Scan and Deep Scan, makes this possible. After scanning the files, it displays both deleted and existing files so that you can choose the ones to recover. This awesome program can also let you conveniently restore files from the SD card without backup.
Its ease of use and uncomplicated user interface makes it one of the most sought-after data recovery tools. It supports many Android devices, including the most popular brands and models like Samsungs, Huawei, LG, Sony, Xiaomi, etc.
Here are the key qualities of this recovery software:
- Recovers files such as call logs, SMS, contacts, photos, videos, music, and documents on Android.
- Offer a one-click data recovery.
- Restore deleted files from SD cards without root.
- Support viewing files before recovery.
- Widely compatible with most Android tablets & phones.
- The Deep Scan feature can find more deleted files generally.
- Boast a high success rate in data recovery.
Download this software below.
Now let's show you how to use this program to recover deleted files on Android in just a click:
Step 1: After downloading the software on your PC, please launch it, and choose "Android Recovery".
Step 2: Link the Android to the PC USB and activate USB Debugging. All files available on the device will be shown on the screen. Select those files you need to restore and click "Next". Then select a mode of scanning, either "Quick Scan" or "Deep Scan", to scan your files. Hit "Continue" to proceed.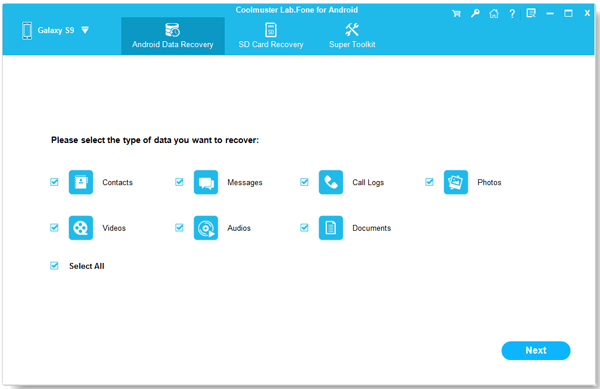 Step 3: When the files have been scanned, they will be displayed on the screen, including the existing ones. Choose the data to be recovered from the left panel. Pick the specific files to restore and tap "Recover".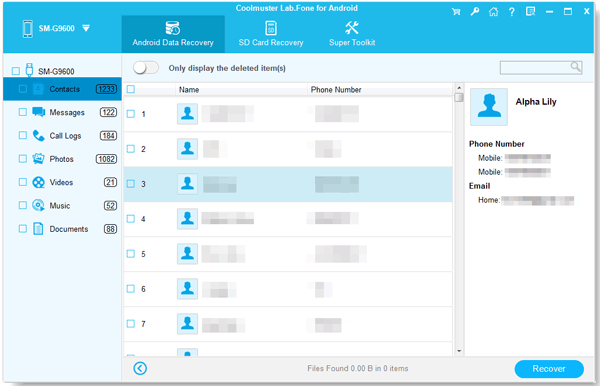 Conclusion
There you have it! These are the workable solutions to recover deleted files on Android without a computer. The methods mentioned here are pretty simple.
However, restoring deleted files on an Android without a computer can be challenging. But don't sweat it. You can restore files with a computer as well, and we have provided an efficient tool to use. Samsung Data Recovery is your all-in-one tool to quickly restore deleted Android files on a computer without data loss.
Related Articles
Tutorial: How to Retrieve Text Messages from SIM Card on Android
How to Recover Deleted Screen Recording Video on Android via 3 Easy Methods
Why Does Android Crash? How Can You Fix the Issue? [Solutions Ready]
How to Find Android Recycle Bin and Recover Deleted Files Easily
Quality Android Data Recovery: Recover Android Files without Hassle [9 Tools]
Recover Deleted Documents on Android: Vital Tips and 4 Recovery Tools