Summary
If you are on the journey to seek love, Hinge is among the best apps being used nowadays. Whether you are in need of a lover or just meeting new people, Hinge is the app for you. Hinge has become a popular online dating platform, winning much praise for helping many people find love. However, the main concern is how to change the location on Hinge. So, today we are going to provide some tips that can help you change location on Hinge. This article is specifically tailored for you in case you feel like changing the Hinge location.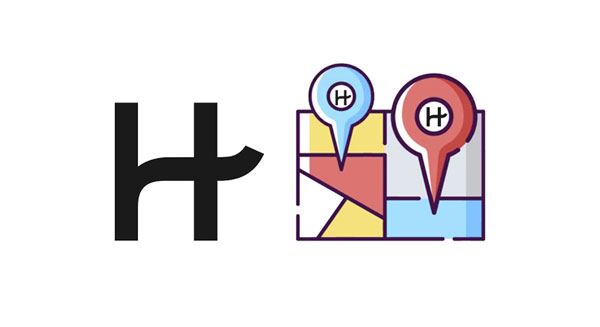 Part 1: Before We Start: Know About Hinge App
Hinge app developers are continuously updating Hinge app to become one of the best dating apps that can accommodate all users. The app allows you to message other people without essentially being their match. Also, it has some other features that let you meet and chat with more users if you have not yet found your match.
Hinge has location services that allow you to change your location anytime. That is to say, on the Hinge app, the location is changed manually. This has made Hinge outdo other dating platforms like Tinder and Bumble, which always depend on GPS location to locate their users and display the consequent location information.
If you are a Hinge user, you may want to change your location when you migrate to a new place and want a partner from within the new location. In addition, if you change your location and have already found your match, changing your location on Hinge will help inform the partner.
Part 2: Is It Possible to Change the Hinge Location?
Absolutely. It is possible to change location on your Hinge app. However, your spots will not be updated automatically since it doesn't use GPS. This is why Hinge is intended to help you create a long-term relationship rather than a casual hookup, unlike other dating platforms like Tinder which rely on your GPS location to show you potential matches in your present location. Therefore, if you want to travel to another place, you will need to update your location on Hinge manually.
Your Hinge location setting is static; you must select it manually. The application doesn't rely on your device's GPS location; therefore, it cannot detect your location automatically, unlike GPS-based apps.
Read also: How to Change Work/Home Location on Google Maps via 3 Useful Methods
Part 3: How to Change Location on Hinge?
Unlike other dating apps like Bumble and Tinder, Hinge doesn't require your subscription for you to change your location. Since it largely focuses on establishing a relationship, Hinge doesn't use your phone's location data. Instead, you enter your location to get a match from your place. Therefore, you can change your Hinge location to any place you want, any time. The following section will discuss how you can change your location settings on your Hinge mobile app.
3.1 How to Change location on Hinge via Hinge App Settings
Can you change your location on Hinge for free? Of course, you can. Regardless of your smartphone platform, you can manually change your location on Hinge. Below is the procedure for changing your location settings on your Hinge app for free:
Step 1: Open your Hinge application and sign into your account.
Step 2: After you have signed in, select the "Settings" option on your app. On the Settings menu, tap on "Preferences".
Step 3: Tap on "My Neighbourhood" and then tap the compass symbol. Also, you can zoom in using your fingers and select the location of your choice. When you select your location, save your changes, and the app will update your location.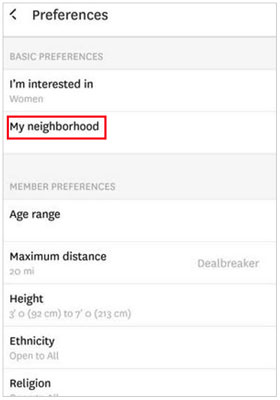 Read more: Can you sync apps from one iPhone to an iPad? Many people use these methods to make it. You can try them.
3.2 How to Set Hinge to a Different Location on iOS and Android Devices Manually
Can you set Hinge to a different location on your iOS or Android device? Don't worry. You can now change your Hinge location with the following steps.
On an iOS device:
Step 1: Open the Hinge app on your iPhone, and go to Settings on your iPhone. Then tap on the pencil icon beside your name.
Step 2: Scroll through the list up to where the "Location" option is.
Step 3: Change the location setting and save your changes.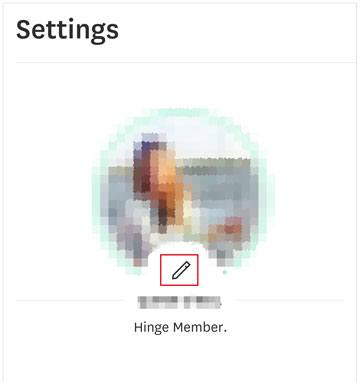 On an Android device:
Step 1: Open Settings and select the pencil symbol.
Step 2: Scroll through to "Edit" and click the "My vitals" option.
Step 3: Click the "Location" option and change the location. Save your changes.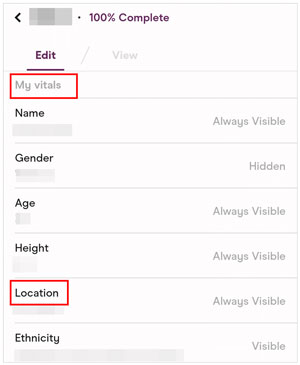 3.3 How to Change Hinge Location with a VPN
Usually, a VPN helps cover your device's IP address and make the device appear as if it is in a different country than it actually is. However, you do not need VPNs on your phone to change location since the Hinge application does not collect location info from your device. Still, you can use a VPN to isolate your Hinge application from the internet service providers.
Below are the steps to change your Hinge location using a VPN:
Step 1: Download a VPN app on your phone, such as ExpressVPN. Open the VPN application and sign in with your credentials.
Step 2: Find the server list and then link to a VPN location of your choice. Open the Hinge app and tap on your photo symbol on the right.
Step 3: Select "Preferences" and "My Neighborhood". Then tap on the compass symbol in the bottom right corner. Use your fingers to zoom. Then you will change your location for Hinge successfully.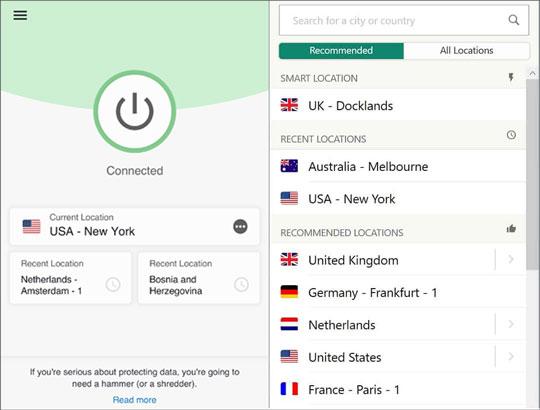 Ensure the VPN stays active all the time. When you leave home and change to using your mobile data, the VPN app will protect you from interruption.
See more: How to Change Location on Tinder Swiftly | 5 Helpful Methods
3.4 Ultimate Way to Change Hinge Location on Android & iOS
Manually setting your location on your Hinge app is a bit time-consuming. This is because you must always update your location whenever you visit a new place. So how can you avoid these inconveniences? Well, a great application called Virtual Location Changer allows you to change your location on the world map to any place you want. With this Android and iOS-based tool, you can change your location with just a click.
It is an easy-to-use tool that lets you export and import GPX files to save your favorite routes, set places for all your location-based apps, simulate GPS movements along the routes, teleport to a GPS location of your choice, etc. You can also use it to spoof Pokemon Go.
Top Features of this virtual location changer:
- Fake your Hinge location to your desired destination quickly.
- Change your GPS on your Android device, iPhone, and iPad without anyone knowing.
- Allow you to choose what place you want on the map arbitrarily.
- Help you play AR games at home, and set the speed at your will.
- Work for various social platforms, like WhatsApp, Tinder, Facebook, and more.
Download this Hinge change location software.
Follow the steps to set Hinge to a different location using this program:
Step 1: Download the GPS changer and install it on your PC. Open the software and tap on "Get Started".
Step 2: Connect your device to the PC using your USB cable, choose your device, and hit "OK" on the interface.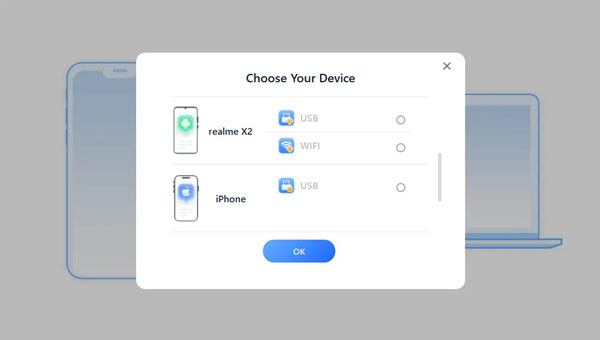 Step 3: You will see the map. Please select the third symbol for "Teleport Mode" on the app's main interface. Select your desired location or search for it using the search option. Now, click "Move" to update your Hinge location.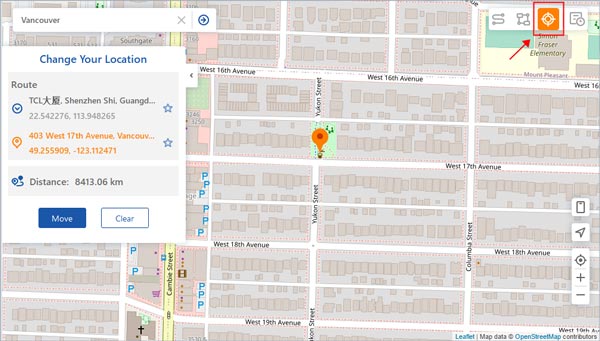 Further reading: How can you stop someone from spying on your mobile phone? Read this guide to get useful solutions.
Hot FAQS on Hinge Location Changing
Q1. Does Hinge change your location when you travel?
No, Hinge doesn't change your location automatically; you must update your locations manually. Since the hinge app doesn't use any IP addresses or GPS, you don't need any subscription to change your location setting on it. Remember, you can change location on Hinge manually any time you want.
Q2. What happens when you change the Hinge location?
Hinge also does not update your location automatically when you make changes. For instance, if you reside in New York and travel to Boston, Tinder will automatically show you Boston matches. At the same time, the Hinge app will keep showing you matches from New York until you manually update your location.
Q3. Will I lose matches when I change the Hinge location?
No, you won't lose your matches since, unlike other applications where chats disappear when you move to a different place, matches on the Hinge platform never expire.
Conclusion
Now, you have learned simple ways to manually change your location on Hinge. However, the process can be quite tiring since you have to repeat it repeatedly every time you change your physical location. Therefore, it is recommended to use Virtual Location Changer to change your Hinge location with just one click, and you can hide your real location on Hinge easily.
Related Articles
How to Change Weather Location on iPad in Trouble-free Ways [Settled]
How to Change Location on Instagram via 4 Hassle-free Methods
AppValley Pokemon Go Info - Easily Use AppValley and Hack Pokemon Go
Is Snapchat Location Wrong on Smartphone? Correct It with Simple Fixes
HTC Transfer Tool: Full Guide for HTC Users [Contain Powerful Alternatives]
How to Back Up LINE Chat on iOS and Android Devices (4 Efficient Ways)